Thanksgiving Camp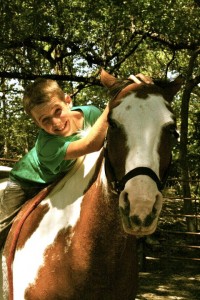 The Flying G Ranch's Thanksgiving Holiday Camps are filled with lots of horseback riding, arena lessons, trail rides, Bible devotion time, informative barn classes as well as hands-on experience in horse care and barn chores. Learn what the wonderful world of horses is all about in these camps.
Each camp is unique and designed to focus on different areas of horsemanship and horse care to give students a full and well-rounded experience. Sign-up for one or more days!
Camps are open to ages 6-17. All lessons are tailored to each rider's age and riding experience. Rider's will be grouped according to age and riding skill. All levels of horsemanship are taught from elementary to advanced.
Hours are 10 am to 3:45 pm with your choice of Monday, Tuesday or Wednesday. Sign up for one or MORE days!  Cost per day is $45.00 per camper. Lunch will be provided!

To register just CLICK HERE