Summer Camp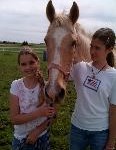 Horseback Riding Summer Camp Texas Summer Camp
May 29-July 28, 2017 (Mondays-Fridays)

9:00 am-3:45 pm

Youth Camp (Ages 6-12),   Teen/Advanced Camps (Ages 12- up)
Just $45 a day!
The Horsemanship Day Camp Program offers fun activities throughout the day. Campers check-in each day at 9:00 am. Horsemanship lessons, barn classes and trail rides fill each morning. After lunch, campers trail ride through wooded paths and meadows in an unforgettable adventure. Campers cool off in the afternoons to lots of games, sports, water activities, Bible studies and craft time. Those in Teen or Advanced Camp learn Horse training techniques as well as spending extra time with the horses. Horsemanship skills are offered for all riding levels, beginning through advanced. (Western or English riding available) Campers are usually grouped by age or riding skill.

Horsemanship Camps Riders may sign up  for one or more camp days.  Each camp is varied and unique.  A hearty lunch  will be  served each day.

Read More
Ask about or Archery or AirSoft Add-ons!
Other Camps Offered:
Wrangler Training Camp -Ask for details