Private Horseback Riding Lessons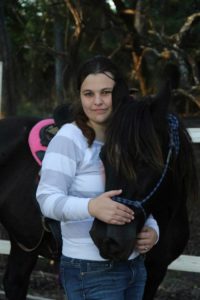 We  offer private riding lessons for adults and older children taught by Morgan McDaniel. She specializes in natural horsemanship concepts as well as striving to build the rider's confidence in the saddle.
Morgan teaches riders of all levels from "greener than grass" to "seasoned" rider.  These lessons provide a unique approach to horsemanship focusing on theory and relaxation techniques to get the rider and horse to move together in harmony and unison.   You will learn how to develop a natural relationship with the horse by learning to understand his viewpoint. Partnership with the horse can be achieved without the use of force or coercion. In depth study of horse psychology and common sense communication techniques will also be taught.
These classes are ideal for riders who wish to build confidence, considering buying their first horse or those  "returning to the saddle", as well as riders who are just looking for a one-on-one lesson experience to focus on specific areas of interest.
The cost is:
$25.00/rider for up to 40 minute lesson, Ages 6 and up
$30.00/rider for up to 60 minute lesson, Ages 8 and up
$40.00/rider per 90 minute lesson, Ages 8 and up
She also offers our "Pony Pals" program for ages 5 and under!
Bring some friends for a small "mini-clinic"!
Please call 214-284-6425 to ask questions or to set up a convenient time for lessons.
Some concepts that may be covered in lessons are:
Balanced, secure seat
Moving in harmony with the horse's movements
Utilizing the rider's "core" efficiently
Horse psychology
Learning to relax and not brace against the horse's movements.
Ground work
Keeping the joy in your riding