Saturday Rides
Saturday's at The Flying G are chocked full of great, informative horse activities. Choose one activity or combine two or more activities to make your time with us a memorable day! We offer these activities: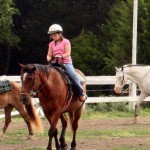 Saturday Morning 10:00am -12:00 pm (Sept-May)
Our Saturday Morning Program (Sept-May) is an experience to provide riders with the opportunity to ride and learn horsemanship skills followed by a trail ride. Each of these classes are packed with fun and educational activities for riders both young and old. We offer classes for all riding levels and skill from beginner through advanced.  All activities are under adult supervision from our well trained and caring staff. This program is ideal for Boy or Girl Scout Troops to earn badges and patches. For those staying all day, you can bring a sack lunch or purchase a hearty meal for $5.00. $20.00 per rider, Ages 6 through adult. Learn More.
$10 Trail Ride Special: 11:00 am, 1:00pm, 2:00pm,  3:00 pm, and 4:00pm, (5:00pm and 6:00pm after time change)
Offered Sept-Dec. and Feb-May
Join us for a fun casual  trail ride along our beautiful and scenic trails.  These rides are open for novices as well as more seasoned riders. We keep these group  rides small in number for more personalized attention from our staff.  We have several miles of beautiful, rustic trails that meander through wooded areas and fields. Enjoy the peace and calm of our country beauty. These trail rides are a great way to spend a Saturday afternoon with friends or family!  After the ride, guests can spend time grooming or petting our gentle friendly horses. Regularly $25.00 per rider For a LIMITED Time; Prices SMASHED to $10!!!!!!, ages 8 through adult. Learn More.
Younger ages considered on an individual basis.
Afternoon Riding Lessons  3:00pm-4:00pm (Sept-May)
These lessons are offered for all riding levels, from green-as-grass novice to advanced. Riders will be grouped according to their riding skill. Instructors and arenas are available for each level. These informative classes are great on their own or in conjunction with our other programs. Students will be taught in a casual, nurturing environment. $15 per rider, ages 6 through adult. Learn More.
$5.00 Try-it-Out Rides   4:30pm (Sept-May)
Thinking about riding lessons but not sure if you'll like it? We are offering this very discounted special on horse rides. For just $5.00 (YES five dollars!) you can come for a 30 minute horse ride at the Flying G. These rides are also great to invite your friends and family to so they can get a taste of some true TEXAS riding! $5 per rider, ages 6 through adult. Learn More.